ʻĀina Archaeology is cultural resource management for kulāiwi by ʻōiwi.
We formed our practice to fulfill a kuleana (privilege and responsibility) to care for Hawaiʻi's cultural and natural resources. We utilize an innovative blend of traditional epistemologies with the latest scientific technologies and research techniques to push the boundaries of best practices and achieve excellence in our endeavors. We take pride in our commitment to Our Values that are the basis on which we operate. Our pioneering methodologies and firm commitment to our values enables us to implement creative solutions for all your historic preservation needs.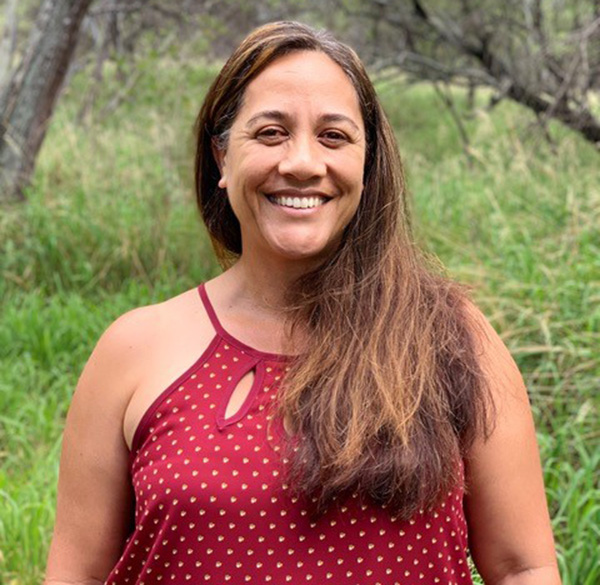 Tanya Lee-Greig
Principal, Lead Investigator
Tanya L. Lee-Greig has over seventeen years of experience working in cultural preservation, archaeology, and anthropology. She spent the early part of her career on Kaho'olawe, where she was a lead member of the historic preservation team for the U.S. Navy's Kaho'olawe Ordnance Clearance Project. She has overseen a broad scope of cultural resource management projects, including archaeological monitoring programs, archaeological data recovery, and development of treatment and preservation plans for both burial and non-burial sites in Maui County. Tanya received her M.A. Anthropology, with an emphasis on Archaeology, from Colorado State University. She also has a B.A. in History from Western State College in Colorado.
OUR SERVICES
'Āina Archaeology serves individuals, communities, businesses, and government agencies to protect, preserve, and perpetuate Hawai'i's ancestral assets. Our practice blends traditional Hawaiian land management techniques with contemporary methods of conservation and historic preservation.
Our solutions leverage a project's unique relationship with culture and place.  It's an approach that provides more meaningful value for the client today, and a truer record of history for Hawai'i tomorrow.
Archaeological Inventory Survey
Cultural Impact Assessments
Traditional Cultural Property Study
Archaeological Preservation Plans
Burial Treatment Plans
Geographic Information Systems (GIS)
Data Recovery
Monitoring
'Āina Archaeology can  provide consultation services and historic preservation assistance for both State and Federal Projects that are subject to compliance with the National Historic Preservation Act (NHPA) under Section 106 and the federal Department of Transportation Act Section 4f.
OUR VALUES
These values are the foundation on which ʻĀina Archaeology stands. We strive to reach the ideals of each value in every facet of our work from the selection, implementation and completion of every project we engage in. These traditional values are applied to achieve contemporary solutions to achieve the collective goals of our clients and the communities we work in.
Aloha 'Āina

Love of the land

Aloha is reciprocal and is the natural manifestation of a healthy relationship between peoples and their environment. Aloha ʻĀina is the deep expression of love for the land as an older sibling and that which feeds all aspects of our existence.
Hāpai Kuleana

To uphold ones privilege and responsibility

Ones kuleana is both a privilege and a responsibility. To hāpai ones kuleana is to not only carry it, but to carry it as is if it were a child in the womb and then to lift it up and raise it to new heights above and beyond expectations.
Kūlia i ka Nu'u

To strive to reach ones highest

Kūlia I ka Nuʻu, the motto of Queen Kapiʻolani is a call for excellence. It requires one to push back against all adversity and to achieve goals that seem unattainable to most. Kūlia means to strive, exert, to be outstanding. The term Hoʻokulia means to strive to obtain wisdom.
Hānau ke Kanaka

Born are the people

Hānau ka ʻāina, hanau ke aliʻi, hānau ke kanaka (Born was the land, born were the chiefs, born were the people), intricate relationships hold together the fine mat of Hawaiian society. These relationships must be perpetuated to maintain strength and continuity.
Kūpa'a ka Mana'o

To be faithful in thought and settled in the mind

Kūpaʻa ka manaʻo requires unfaltering commitment to one's vales and a fierce determination to support equity in all one strives to accomplish. Kūpaʻa means to be steadfast, firm, constant, immovable; loyal, faithful and determined.
'Ike Pāpālua

To have extrasensory perception

This value requires one to be innovative and creative pushing, against standards and boundaries of existing paradigms beyond information collection towards true wisdom and knowledge transmission. ʻIke means to see, know, feel, recognize, perceive, experience, understand; knowledge, awareness, understanding, recognition, comprehension and hence learning.
Opportunities with ʻĀina
Archaeology Field Supervisor
'Āina Archaeology ('Āina) is currently accepting applications to fill one or more full-time Archaeology Field Supervisor positions at our Maui locations. Reporting to the Principal, Archaeological Field Supervisors will be responsible for oversight of field technicians and the quality of field documentation during intensive archaeological survey, excavation, and monitoring of construction or other ground disturbing activities.
Archaeology Field Technician
'Āina Archaeology ('Āina) is currently accepting applications to fill one or more full-time Archaeology Field Technician positions at our Maui and O'ahu locations. Reporting to the Principal, Archaeological Field Technicians will be responsible for conducting archaeological survey, excavation, and monitoring of construction or other ground disturbing activities.
Maui
1305 N Holopono St. Ste. 6
Kīhei, HI 96753
+1 (808) 867-AINA (2462)
Honolulu
725 Kapi'olani Blvd, 4th Floor
Honolulu, Hawai'i 96813
+1 (808) 867-AINA (2462)